Low Cost DIY Flooring Ideas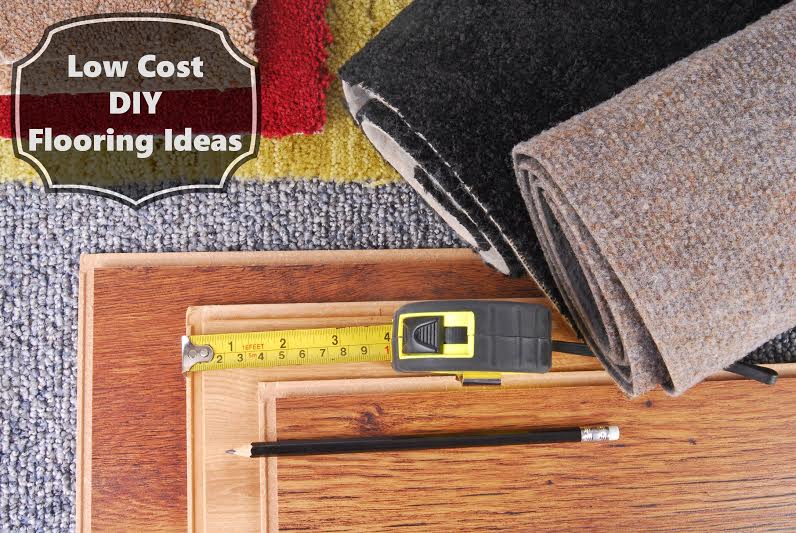 Adding new flooring can be an expensive part of remodeling any room in your home. Here are some ideas to keep the costs low and still have gorgeous, quality flooring.
Brown Bag Flooring: Did you tear up your carpet looking for beautiful hardwood but found plywood or concrete? Here is an amazingly beautiful solution for the problem using simple brown paper bags. These floors are made by taking scraps of paper and gluing them down in a random pattern, then cover it all with a layer of polyurethane. The final product looks like a cross between leather, cork, and hardwood for an extremely low price. First soak the pieces of paper in the glue (Elmer's glue works great), set them out on the floor and let them dry, then cover it all with a few coats of the clear polyurethane. You can easily find videos on Brown bag flooring on YouTube.
Paint or Stain: Are your wood floors looking ruff? Don't be afraid to use some color and spruce them up with some paint. You can use a solid color or go with a pattern like stripes or chevrons. If you have concrete floors you can purchase different colors of concrete stains as well.
Vinyl floor tiles: Vinyl flooring tiles are one of the most inexpensive flooring materials. The materials are super cheap and you can save even more by installing them yourself.
Laminate Flooring: If you really take your time searching you can find some good quality cheap laminate flooring. You just have to put in the time and effort to look!
Carpet Tiles: Carpet tiles are another great product you can install yourself. These are not the most inexpensive but you will be saving by doing the install yourself.
There are many inexpensive options to redo your flooring you just have to be willing to put in the time and work to get the look you want.