Instant Inexpensive Curb Appeal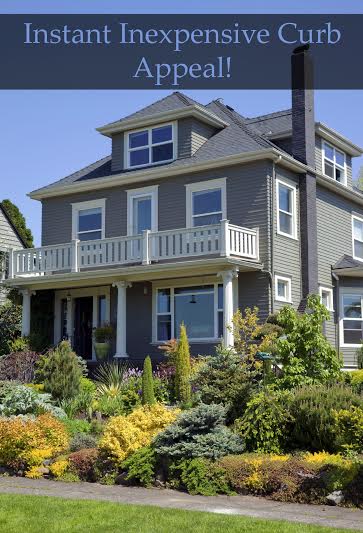 Adding curb appeal to your house will make it easier to sell as well as give your house a nice finish you can be proud of. Here are some inexpensive ways to give your house great curb appeal.
Paint the door, shutters and trim. You will want to go with a color that won't make your house the sore thumb of the neighborhood but will allow your house to stand out a bit. Pick a color that goes with the rest of your house. Adding some brightness can help revive your house and add much needed curb appeal.
Update the mailbox. Add a little higher scale mail box to your house decor and it will give your house an upgraded feel.
New house numbers. Look for updated house numbers made out of stainless steal or aluminum. Look for a finish that will match your already existing light fixtures.
Plants, adding a tree or two to the front yard will add some curb appeal. When purchasing a tree you will want to consider how tall it will get and the effect it will have on your house. Flowers are also a great way to add a splash of color to the front of the house. If you don't have flower beds think about some potted flowers on the front patio or flower boxes below the windows.
New light fixtures are a fantastic way to brighten up your curb appeal. Make sure to get light fixtures that match the style of your house. You also want them to be able to sufficiently light up the front of your house and make it safer. Be sure to check out the mounting system of your current lights and try to match it in the new lights for easier installation.
What other items would you change to help your curb appeal?