How to Stop Wasting Money by Over-Paying for Things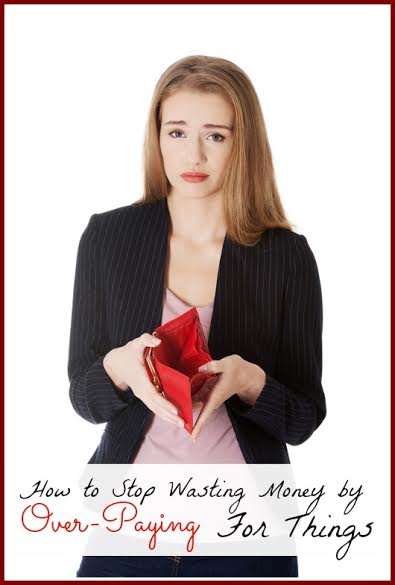 Often times, when we are too busy or too much in a hurry, we end up over-paying for things just to "get it over with". Unfortunately, you can lose a lot of money this way by paying too much for goods and services in the long run. Here are some tips for making sure you are not throwing money away.
Check your receipts. This is true for anything you buy, but it seems to happen most often at the grocery store. Sometimes, what you are being charged is not what the price said on the shelf. Some stores even have a policy that if you are over-charged, you get the item for free, so make sure you know how much things cost and watch as they are rung in and look at your receipt carefully afterwards to make sure you didn't get charged too much.
Read the fine print. If you make a contract for services, make sure you reads the fine print to make sure you won't be charged for hidden fees. You may be able to find a contractor that doesn't charge these fees.
Be smart about packaged deals. This is true for vacation packages, services and even car maintenance. Don't be talked into buying a package thinking you will save more money if you do. In some cases, you do and in other cases, it isn't a deal at all. This is especially true if you don't realistically need everything included in the package.
Look at unit prices. Bulk buys are a good idea if they are in fact a lower price than a smaller package. The way to tell if you are getting a good deal is to look at the bulk packages and compare how much each unit costs against a smaller package. For instance, if each unit is a can of soda and in a smaller package, each can comes out to 25 cents and in a larger package it is 30 cents a can, you are not saving any money by getting the larger box of soda.
Compare and shop around. This is the most time consuming way to make sure you are not over-paying for something, but it really does make the difference. The price of goods and services can be vastly different in one area and you could end up paying twice as much for something if you don't shop around.
Look up reviews. If you are needing a service done, it is best to pay for it to be done once, obviously. If you are unsure where to go to get your services from, check out reviews online. Also, if the company has a facebook page, look at the comments left by others. You will surly over-pay if you have to pay for it to be re-done simply because you didn't look at the reviews.
Shop online. For goods, you can often find better deals online than in stores. If the item is a hard to find one, look on Amazon or eBay for it. You might be surprised how much cheaper you can get it online than in your local store. Do this for anything you find, even if it is available local, as you may see a huge discount if bought from an online retailer.
How do you save money? Do you take these steps?